First Vacation: Devil's Lake State Park, Wisconsin
Drove along the Trollway in Mt. Horeb on the way there.
We had rain the first evening . . .
But good weather the rest of the trip! We love the mountain-lake feel of Devil's Lake, and the great hiking up the bluffs.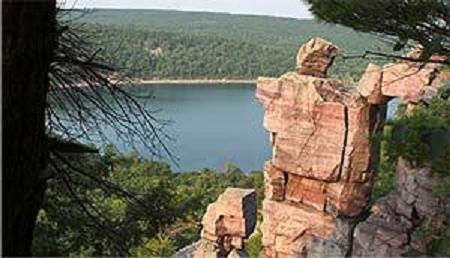 (No family pics from Devil's Lake--they were on Robbie's Archos, which isn't working)
Second Vacation: Chicago
Went here the hottest week of the summer :-(
The view from the Hancock Tower at night was great.
Friday was a Cubs game for Eli and Bruce. Robbie and I went to the Art Institute. Robbie took some pictures of things that amused us.
Me by the spider silk blanket.
Oscar Wilde teapot.